Stardate 11465.8
Captain's Log: Stardate 11465.8
I could not imagine a better night last night. Clear skies, great breeze and, imagine this, no postponement from the race committee. We got out to the starting area early, hoisted the main and cut the engine, leading us to euphoria!
I'm sailing! I'm sailing! Ahoy! I sail. I'm a sailor. I sail. Out on a boat. Way far away from the dock. With the wind and the sky and everything.
Missing for the night was Ensign Ceaser, who was out playing a gig with his band, Just Nuts, making yet another example of when Just Nuts breaks my balls. The band is pretty good, however, and here is a shot of Ceaser playing for one of his more attractive younger groupies: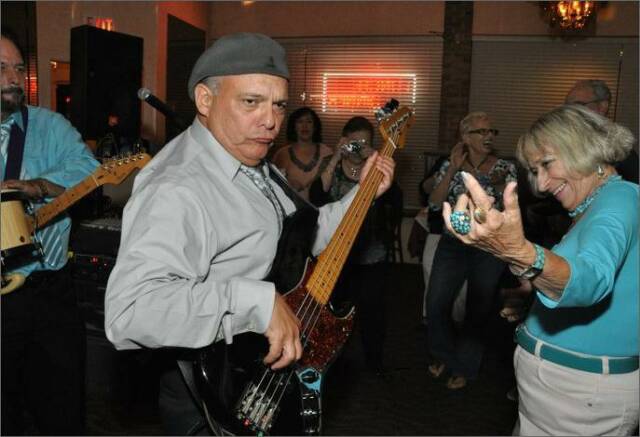 Maybe it's a good thing that the band doesn't know how to play Eddie Money's "Take Me Home Tonight"....
As for the race, things went amazingly well. We started with great speed and in first (a little early, but we slowed to be on the line on time) and never looked back. We had fast tacks and great roundings, reaching speeds in excess of Warp 7 going downwind. As we passed boats that started 5 minutes ahead of us, we knew that the competition in our division was back there, but after some time, we couldn't figure out where.
The crew did a fantastic job of sail handling between discussions of hippies and pot brownies (I still can't figure out why pot brownies are widely accepted, but if you make one batch of crystal meth cupcakes they label you a bad person.)
Especially impressive was the work of young David Beaver Jr., who has become the best genoa tailer that the Enterprise has seen in years. It's a little scary sometimes to see how close his hands get to the winch drum when cleating or taking a wrap, perhaps thinking "does anyone really need all ten fingers?", but nevertheless, it is decided that he be given a full officer's rank, moving him from Acting Ensign to Ensign. This also makes David the youngest officer in history on board the Enterprise.
We crossed the finish line first, far ahead of the others, which is a great victory, but always wondering if boats like Saudades and Mr. Tap Toe will finish several hours (or days) later and correct on us. The real victory came later that evening when the results posted:
First baby! We got it right! Awesome!
And just when I received my winter storage bill....